On Friday, June 18, 2004, Meagan's condition reached a crisis point. She was unable to breathe effectively and had to be hospitalized at the University of Michigan's pediatric intensive care unit. Although she was on a respirator, she was able to communicate by finger spelling. Realizing that her life was drawing to a close, Meagan had a few visitors and discussed preparations for services. On Monday, June 21, Meagan decided that she was ready to end her struggles and transition to the next life. Repeatedly during the day she spelled the words "I'm Ready." She was fully conscious and took part in all decisions regarding her care. On the afternoon of June 21, at Meagan's urging, we turned off the respirator. Meagan lost consciousness almost immediately, due to her inability to breathe on her own. Her body struggled for a short while, but at 8:35 in the evening she passed from this life to the next. At no time did she suffer at all. We miss her terribly, love her always, but are glad for her that her spirit is free.
Meagan wanted to have two services. The first was a graveside service for family and close friends. This service marked her passing. The second service was a memorial service commemorating her life. The two services are described below.
Burial Service
On Friday, June 25, Meagan was buried at Forest Lawn Cemetery near downtown Dexter (8095 Grand). The service began at 9:30 in the morning and lasted approximately forty-five minutes. Meagan's grandfathers spoke, her teachers read from her poetry, and everyone placed flowers on her grave. It was a lovely ceremony in a beautiful setting. The complete text of the service is available by clicking here.
The map below shows the location of the cemetery: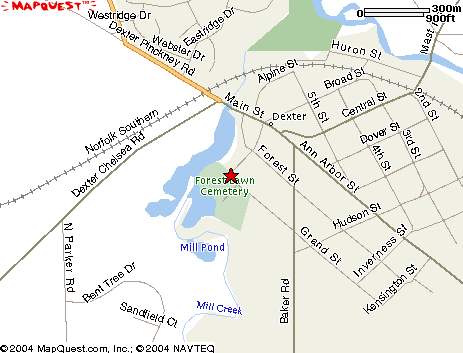 After the burial service, there was a gathering at Dexter-Huron Metropark, on Huron River Drive approximately 1.5 miles southeast of Mast Road. On the map above, Mast Road appears on the top right corner. Huron River Drive is on the northeast side of the river shown in the top right corner.
Meagan's grave lies at the southeast corner of the cemetery, adjoining a beautiful wetlands. It is a peaceful, lovely spot. We encourage you to visit her grave in remembrance and to leave a flower to mark your visit.
Memorial Service
Meagan's memorial service was a celebration of her life. It was held on Monday, July 5 at 2:00 at the First Unitarian Universalist Church of Ann Arbor, 4001 Ann Arbor-Saline Road . Many who knew or were touched by Meagan and her family attended. A reception followed in a tent erected outside the church.
The full text of the service can be read by clicking here.
Pictures from the service are also available.
Contributions
Meagan had been working to help teachers at the Ann Arbor Rudolf Steiner High School collect books for their classrooms. Her family would like to continue that effort. If you would like to contribute in her memory, please send a check to the family at 3564 Inverness, Dexter, MI, 48130.
Alternatively, Meagan cared a great deal about the environment. We recommend the Adopt-an-Acre program of the Nature Conservancy. Currently, they are working on purchasing and preserving a temperate rainforest in Chile.You can see more information by going to http://nature.org/joinanddonate/adoptanacre/about/index.html . That page has some info, but we would prefer donations made by either by calling 1-800-84-ADOPT (1-800-842-3678) and using your credit card or by mailing a check to:

Nature Conservancy
4245 N. Fairfax Dr., Suite 100
Arlington, VA 22203
with the reference number 10835832 in the memo line.

Please mention that it is a memorial gift for Meagan Margerum-Leys.

---
All materials on this site copyright 2003 and 2004 the Margerum-Leys family and Brian Filipiak. For technical information, e-mail webmaster@meaganscorner.org .